TORGEIR GODMAN, 31 years old, son and webmaster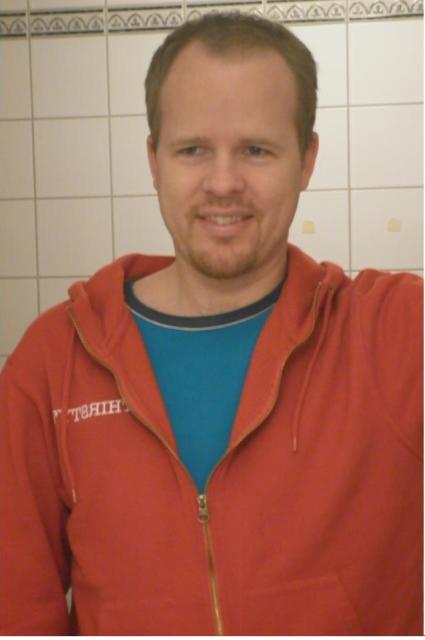 I am a 31 year old boy with a sparkling joy of life. I was born in the Oslo-suburb Bærum in the autumn 1981. My mother is from Oslo and my father is from Gotland in Sweden. But however the whole family raising has always happened within Norway.
Now I live in a village called Ørje, within the deep forests of the very inner part of a county called Østfold, not far from the Swedish border. I enjoy myself very much in this village, and I have many friends living here. Ørje lies in Marker Municipality, and I am very thrilled of what fantastic services the local government has offered me. I have got a job called INNOVI where I thrive and have made several good friends there. I have also made several good fantastic friends in my fantastic local pentecost church, a good spiritual home where I have settled down. In the summer of 2012 I got the great pleasure and joy of marrying a very cute and tender-hearted girl called Linn.
I HAVE BEEN LIVING THESE FOLLOWING PLACES DURING MY 31 YEARS OF LIVING
| Place of living | Municipality | County and geographical position | Period of living | Experiences and reasons for living there |
| --- | --- | --- | --- | --- |
| Bekkestua | Bærum | Akershus (very close to Oslo) | Autumn 1981 | Newborn period |
| Beiarn | Beiarn | Nordland (in the North of Norway) | Dec 1981-July 1985 | Kindergarten |
| Løten | Løten | Hedmark (in the East of Norway) | 1985-1990 | Kindergarten and pre-school |
| Varteig | Sarpsborg | Østfold (in the South-East of Norway, close to Sweden) | 1990-2002 | Primary school, secondary school and junior high school |
| The Bible School BIG | Grimstad | Aust-Agder (at the South-coast of Norway) | 2002-2003 | Bible School year and buying an apartment in Ørje / The Triangle |
| Ørje / The Triangle | Marker | Østfold (in the South-East of Norway, close to Sweden) | 2003-2004 | Working year at the family farm after failing the entrance of IT-studies in Halden |
| Ørje + Østfold University College | Marker and Halden | Østfold (in the South-East of Norway, close to Sweden) | Aug 2004 - Dec 2006 | IT-studies in Halden with both student apartment in Halden and sparetime apartment in Ørje |
| Again only Ørje / The Triangle | Marker | Østfold (in the South-East of Norway, close to Sweden) | January 2007-Spring 2009 | Study interruption, job search, INNOVI-job and INC gospelchoir |
| Ørje / The Dairy Courtyard | Marker | Østfold (in the South-East of Norway, close to Sweden) | 2009-2013 | INNOVI-job, swedish gospelchoir, wedding preparations and just married period |